Tuesday, December 20, 2005
Cold Mountain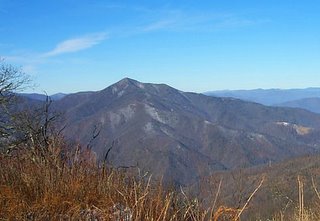 It's such a wonderful clear day today here in North Carolina, I thought I would pass along a view of Cold Mountain up in the Pisgah National Forest.
Here's a webcam
that shows the current view.
Also, here is some verse from late 8th Century, Taoist-Chan poet, Han-Shan. He lived and wrote in the far eastern mountains of China and is well-known for his collection of "Cold Mountain Poems." Han-Shan means "Cold Mountain." This Translation is by Burton Watson.

As for me, I delight in the everyday Way,
Among mist-wrapped vines and rocky caves.
Here in the wilderness I am completely free,
With my friends, the white clouds, idling forever.
There are roads, but they do not reach the world;
Since I am mindless, who can rouse my thoughts?
On a bed of stone I sit, alone in the night,
While the round moon climbs up Cold Mountain.

Read more Cold Mountain Poems
here
.