Wednesday, November 16, 2005
How to Reinvent Higher Education
This is "College Week" over at
Slate.com
. They've got several short articles on higher education reform, the debate over what constitutes a quality education, and much more. In one
series of articles
, several professors write how they might use a "magic wand" to reinvent undergraduate education. The answers are varied and interesting.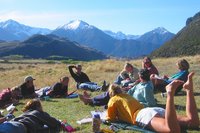 Here's just a brief sample from S. Georgia Nugent, the president of Kenyon College,

"The goal is not mastery of a subject but maturity as an adult— attaining a degree of self-understanding, an appreciation for the limits of the human condition, empathy for others, and a sense of responsibility for civil society."

Lots more good stuff. Go check it out.