Thursday, September 29, 2005
Chris Comments
We've received a couple of emails lately from Chris Carrier, a former CRI student who enrolled fresh out of high school, using the program as a "gap year" or "time off" experience before going on to Williams College. After his CRI semester he went on to participate in an Outward Bound Caribbean semester program and a month-long NOLS mountaineering course in the Waddington glacier range of British Columbia.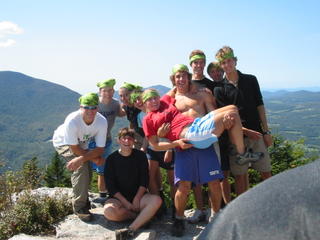 Now at Williams, Chris writes of his time following CRI.

"I frequently thought back on CRI and would nurture myself on those beautiful memories. As amazing experiences as the other two programs were and as wonderful the connections with the more than human world they provided, the human dynamic always paled when held up to the wonderful bonds formed at Castle Rock. And if I hadn't done Castle Rock beforehand and opened my eyes to the possibility of connection with and contemplation of nature, I'm not sure what would have nurtured me during stretches of the OB and NOLs trips where circumstances simply did not allow for much in the way of human connection. My experience at Castle Rock is really responsible for the core of how I identify who I am in relation to the world and how I aim to act in the nourishment of this relationship."

Thanks Chris! Part of what distinguishes CRI from other outdoor organizations, I would say, and perhaps what could begin to explain why CRI means so much to students who participate, is our emphasis on the humanities. Understood as an opportunity to explore who we are, studying the humanities becomes immediately personal, relevant and applicable. CRI is not just spending time outside, not just grappling with group dynamics, and not just reading books and writing essays. It's integrating all these in service of becoming more fully human, of creating a community dedicated to this kind of educational goal. It's an important reason why CRI works.
P.S. In the photo, Chris is the guy standing on the far right.