Monday, August 15, 2005
Feeling Aoraki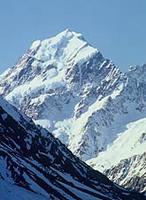 From 1914:

"From the moment my eyes rested on the snow-clad alps I worshipped their beauty and was filled with a passionate longing to touch those shining snows, to climb their heights of silence and solitude, and feel myself one with the mighty forces around me. The great peaks towering into the sky before me touched a chord that all the wonders of my own land had never set vibrating, and filled a blank of whose very existence I had been unconscious."

Written by Australian Freda Du Faur in her book
The Conquest of Mount Cook
, an account of her travels in New Zealand. Aoraki, the Maori name for the mountain, is New Zealand's highest peak at 12,349 feet.