Wednesday, August 03, 2005
David Thru-Hikes the FT and the AT!
Former CRI student David Jessop, who came to us from Oberlin College, wrote recently that he just finished hiking from the southern tip of Florida to the summit of Mount Katahdin in Maine.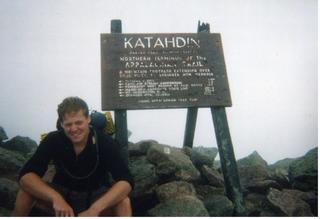 Altogether, he hiked over 3,200 miles on the
Florida Trail
and the
Appalachian Trail
. He thru-hiked the FT, 1082 miles, traveling north between January 9th and March 29th. Then, between April 3 and July 27, hiked the entire 2,175 miles of the AT. This is an amazing accomplishment, one that only a few people in the world can claim. Truly Amazing!
David writes that this sort of long-distance hiking is a deeply personal experience, one that goes far beyond the physical challenges it presents.

"My hike was the adventure of a lifetime, a trip that I will reflect on
as an older man with pride and joy. The probability low and the
challenge great, I was never sure I would actually complete the
journey until I actually arrived at the summit of Katahdin and touched
the famous sign marking the finish. My hike was one of the most
challenging feats in my entire life - physically, mentally, and
spiritually."

We're in awe of David's accomplishment, and all quite proud.
Congratulations David!