Thursday, June 23, 2005
What we learned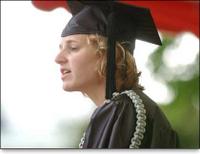 "During our four years here I think most of us can say we've experienced both good and bad times, survived challenging courses and rough weeks of finals. We've developed lasting relationships and found our place on different sports teams, and in clubs and organizations. We've discovered our strengths and weaknesses. In sum, we now have a better idea of who we are and what we believe in.

"We have also, perhaps most importantly, developed the ability to critically think about and analyze the world we live in. While most of us may not be prepared for specific jobs or have definitive career paths, we have something more important. We own the ability to see and interpret situations clearly and effectively, to unmask illusions and witness reality, however dark or unpleasant it may be."

Excerpted from the graduation commencement speech at Denison University, May 15, 2005, written and delivered by Gretchen Roeck, a CRI alumna. Here's a
link
to the entire speech.
Congratulations Gretchen!