Tuesday, June 28, 2005
Tallie's Take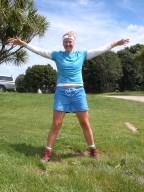 Tallie Jamison, another former CRI student, has updated her
website
to include an essay she wrote in applying for a Nature Conservancy Internship in Idaho. She writes of her time at CRI:

"I had just read Thoreau's

Walden

and David Abram's

The Spell of the Sensuous

during my study abroad semester in New Zealand when I had an experience that transformed the way I think/care/sense/feel about nature. With those thinkers indelible words freshly imprinted in my mind, my classmates and I backpacked along the Heaphy Track (a place that makes Eden look like Beirut). For the first time, I wanted to join Thoreau in his invitation for us to 'settle ourselves, and work, and wedge our feet downward through the mud and slush of opinion, and prejudice, and tradition, and delusion, and appearance, [...] through church and state, through poetry and philosophy and religion, till we come to a hard bottom and rocks in place, which we can call reality, and say, This is, and no mistake.' That afternoon on the trail, I unearthed that which Thoreau hoped would provoke us all to affirm an authenticity of experience and knowledge that moves us to embrace it. I said to myself, in stride, 'The earth is, and no mistake.'"

Read more of the essay (and see lots of her fantastic photos --highly recommended--)
here
. Oh, and by the way, she was awarded the internship and is in Idaho right now.
Congratulations Tallie!