Friday, March 17, 2006
A Community of Wanderers
A nice note from former student Kate Hove arrive recently. In it she quotes Bruce Feiler, saying she was reminded of her time at Castle Rock.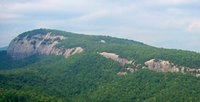 "Perhaps the primary site to encounter the divine is in a place of personal vulnerability, exposed to extreme conditions, surrounded by a community of wanderers, open to the promise of a better, more moral world."

A community of mutually engaged learners, sharing insights and perspectives, we wander to diversify our world.